'At Christmas they let you do it. You can do anything, grab them by the pussy, you can do anything.'
Donald Trump has hit out at scrooges, liberals and leftists attacking 'Baby it's Cold Outside', Christmas, children, the family and American values. In a pre-Christmas message delivered out of the side of his mouth to a guffawing sycophant in a trailer, the leader of the free world has issued a timely reminder of an old-fashioned festive-season sentiment which he believes too many have lost sight of.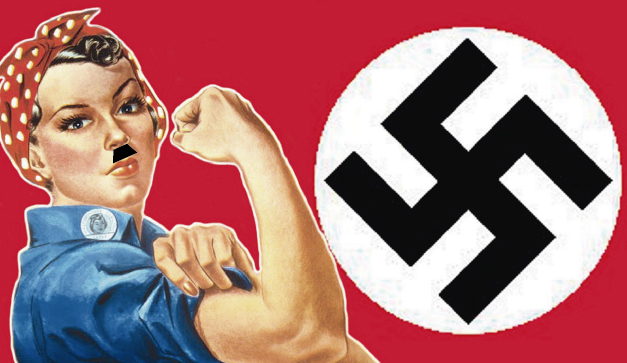 Taking aim yesterday at the liberal-elitist clique of pseudo-intellectuals, lesbians and frigid females who set the media agenda, a bravely smirking Trump dismissed the furore as a 'storm in a D-Cup' and stressed that 'good will to all men' has a timeless relevance in these feminazi-ridden days, 'especially under the mistletoe'. He added: 'I mean that, I really really do.'
No but seriously
One strange thing in this story is the unquestioned status of 'Baby, it's Cold Outside' (like it or hate it) as a Christmas song. The only reason for this is because it contains the words 'cold', 'ice' and 'a drink'. It's as bad as 'Winter Wonderland', which has sleigh-bells, a snowman and an open fire (in front of which we'll puzzlingly conspire, and face unafraid the plans that we've made) but not a sniff of donkeys and mangers, or in fact Christmas. Even 'Grandma Got Run Over by a Reindeer' sung by Elmo and Patsy in 1983, makes a better job of it (38th in the Top 100 Christmas Songs) as does 'Leroy the Redneck Reindeer', holding firm at 92. My personal favourite is at 62, the Ramones' 'Merry Christmas (I Don't Want To Fight Tonight)' which is everything you would want from a Ramones song.
More on misogyny, nitwits and pop lyrics in the next post.
Shampooing
The only reason I'm in the supermarket is because I need a bottle of shampoo. That's all I need to find, and I can be out of here. I only nipped in because the queue for the cash desks was temptingly short and I thought I'd be out in five minutes. But that was ten or twelve minutes ago and here I am still looking.
The shampoo section runs the length of the aisle. The Pantene section alone is over head-high and five or six metres long. I have been up and down it countless times, swearing more and more audibly and generally getting myself into a state. So far I have found the following products:
Shampoo with conditioner
Anti-Ageing Shampoo and 2-in-1 Serum Bb7
Pro-V Curl Perfection Moisturizing Shampoo
Pro-V Micellar Revitalize Shampoo
Pro-V Sheer Volume Shampoo
Pro-V Hydra Scalp Care Dandruff Shampoo
Pro-V Ice Shine Luminous Shampoo
Pro-V Hair Fall Control Shampoo
Pro-V Daily Moisture Renewal Shampoo
Pro-V Repair and protect shampoo
But I'm no closer to finding what I am looking for.
What are you looking for?
Shampoo, are you deaf?
Just…
Just normal, ordinary, wash-your-hair shampoo.
You'll find it under Classic Clean Pro-V formula.
What? OK, where?
Just there, next to the Pro-V Smooth & Sleek Anti-Frizz Shampoo. No, there. Christ, there. Good, you've got it.
OK. 'Classic Clean Pro-V formula'. That's it? How did you know that?
You've got some at home in the bathroom.
No.
Yes.
Just the normal shampoo.
Yes.
It's called that?
How long is it since you bought shampoo? Yes. What's your point with all this shampoo business, anyway?
I can't remember. Never mind. Well, I suppose I should thank you.
Perhaps grudgingly, if you must. It would cheer me up.
Oh.
Yes, woman trouble again.
I'm very sorry to hear you say that.
Thanks, it's good to talk.
No, it isn't, please don't begin. I was very sorry to hear you say it in the same way I'd be sorry to hear you begin: 'I had such a strange dream last night', or: 'You want to know what this country needs?' It was a kind of joke.
OK, very good. But seriously, thanks for being here for me.
Oh God.
It's just one or two problems at home, silly domestic disputes. You wouldn't want to hear about it all.
No. Best not to share, perhaps. Good fences make good neighbours and all that. Not that we are neighbours.
It's small stuff, annoying stuff. Things can get on your nerves sometimes.
Yes.
I'll tell you one day.
That would be very nice. But perhaps not today.
It's often just something like the dish-washer.
The dish-washer.
Well, there's a right way to load a dishwasher, right? There are little racks and compartments, a place for the tea-spoons, a place to lean the wine-glasses so they don't fall over. A place for everything. You don't put dinner-plates in the same rack as tea-plates, for instance. Right?
I suppose not.
Well of course you don't. She does, though, that's the problem. She just jams them in even though it's clear they don't fit properly. And when I pull out the top drawer sometimes, wine-glasses fall over for the simple reason that they haven't been put in the right place.
Ah well, broken glass, of course. They break, do they, is that it?
It passes belief. Why can't she just put things in the right place?
It must be very frustrating. Have you spoken to her about it? Something tells me you have.
I've tried, but it's pointless.
Can't you put things in the right places when she isn't looking?
Well, of course I do find myself doing that, that's what I have to do.
Probably best not to get caught at it, however.
Well oddly enough I did it right in front of her the first time. I thought, you know, if she has learning difficulties, perhaps she needs to watch someone making a proper job of it. There's that saying, tell me and I will forget, show me and …
Yes, yes. So that went well, did it?
Well, I thought so for a while, not bad at least. She didn't say anything at first, just stood there with her hands gripping the edge of the sink, looking down at the plughole. It must have been eight or ten seconds. I was beginning to wonder if she wasn't well, then she said: 'There have been divorces over less', and walked out of the kitchen and straight up the stairs.
And didn't speak again for the rest of the evening.
That's amazing. How did you know that? That's why I like talking to you, you just get stuff. The look she gave me was …
I can imagine. Well, here's my car, still here, haha. This has been great, thanks for your help with the shampoo.
Funny word, shampoo. It's like with champagne, isn't it? Champagne for my real friends, real pain for my sham friends.
That's a good one.
You know what she says I am?
A control freak, I imagine.
There you go again, it's amazing. So, we'll come back to this another time then, will we?
I'll look forward to it.
Talking of shampoo, you know what the French call a hair-wash?
A sharm-pwang.
Hilarious.
Goodbye for now then. Have a good Christmas.